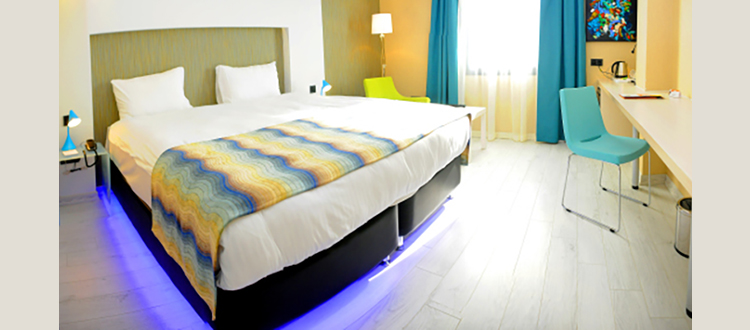 ADVANTAGES OF STAYING IN BOUTIQUE/SMALL HOTELS

In the 21st Century, boutique hotels are the best hotels where personalized service is given. 
Which one would you choose if you were to make a preference between a 5-star hotel and a boutique hotel?  
Here are some clues telling you why you should prefer small hotels:
Boutique hotels have a unique style and contain unique objects. Those who are tired of the same concepts of big hotels look for boutique hotels.  For example, all the paintings in Tempo Hotels and Residences are originally made by Bilge Yapan who is one of our artists. You may even purchase these paintings.
Prices of boutique hotels  are cheaper compared to big hotels. In a 5-star hotel you pay a lot in advance for many services that you will never use. This causes an increase in prices. Boutique Hotels have fewer alternatives for activities and as these are chosen personally, they are either free of charge or charged separately. So, you only pay for boarding and buy the extra services according to your budget.
You feel the cosy atmosphere of your own home in boutique hotels. Boutique hotels become more attractive with their small restaurants and breakfast rooms, intimate gardens and lounges of unique design. You do not share the breakfast room with many others and this makes you feel more valuable.
This is the right choice if you are a gourmet because the owners of boutique hotels usually offer home-made cheese, jams and wines to their guests. It is difficult to find these unique tastes in a metropol.
You can find quick solutions to your problems in small hotels. Because they are operated by a staff who aim to change customer satisfaction into a unique experience. You can see the managers in the breakfast room, lobby or the Reception.
The main aim of all touristic establishments may not be making the guest feel like he is "Walking On Water" (WOW).But, if you ask me who does that, my answer would be boutique hotels.
Usually, the aim is to make you feel at home rather than charging you more.
The choice is yours. 
Stay with the taste of travel
Authors : Gülşah & Fatih
TEMPO HOTELS & RESIDENCES
İSTANBUL/İZMİR/BÜKREŞ
http://www.tempohotels.com
info@tempohotels.com
444 70 55